Writing articles for internationally published magazines has become part of my repertoire.  My approach is very unique.  

I learned about conducting interviews while working at MTV Networks and Nickelodeon in NYC.  Where I went on several ENG shoots at Press Junkets and Red Carpet Events.  It is very important to do your research and know everything you can about the person you will be interviewing.  This way you can make questions both personal and interesting for the reader.  Also, during my time at MTV Networks... I learned that if you want to move an interview in a certain direction you have to learn how guide person interviewed in the direction that you want the exchange of thoughts to go.
When it comes to writing news, I believe it is very important to understand the importance of networking. Being able to connect to the right people in order to produce the intended in content is key.  Also, I think having a background in Public Relations helps, because sometimes you have to connect with various PR departments first in order to get the information that is needed for the article.
I truly enjoy writing and pitching featurettes and specials.  As a writer it is very important to stay on top of new trends and technology.  By doing so this has enabled me to pitch ideas for special editions and exclusive features.
No matter what the assignment....  an interview, a news story, a special or even copywriting, it is very important to know your audience.  This will help you create content that will intriguing to those who read your work.
ADVANCED PHOTOSHOP MAGAZINE / IMAGINE PUBLISHING
In 2015, I was asked to by the editor of Advanced Photoshop Magazine if I would be interested in writing for the magazine.  Being familiar with the magazine I accepted the challenge. 
This began as writing a 5 page monthly interview.  Shortly after my first couple of interviews, I was asked if I would also be interested in taking on 2 pages of the news as well.  My editor recognized that I have a strong networking ability and that it was easy for me to connect with people.  
I truly enjoyed writing for the magazine, selecting the images that would be used for each article and creating content that would be enjoyed by the readers.
NOTE: If you would like to request a PDF copy of these articles please send me a message.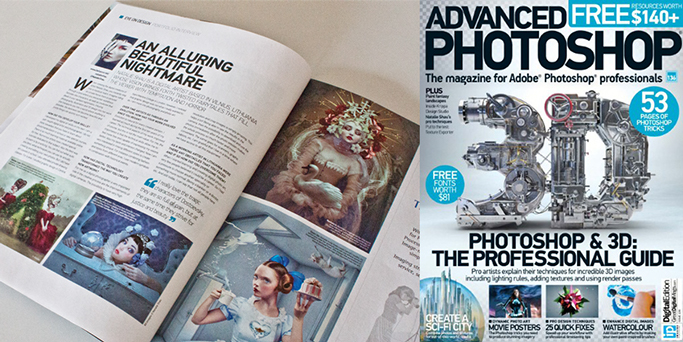 An Alluring Beautiful Nightmare
5 page in depth feature interview with Natalie Shau beginning on page 10.
**Note: This article is available as PDF per request.
**Note: This article is available as PDF per request.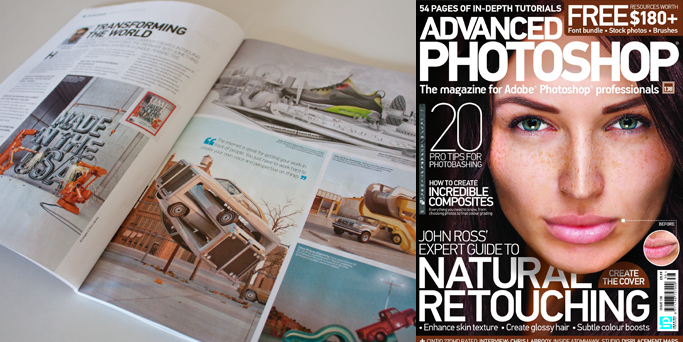 **Note: This article is available as PDF per request.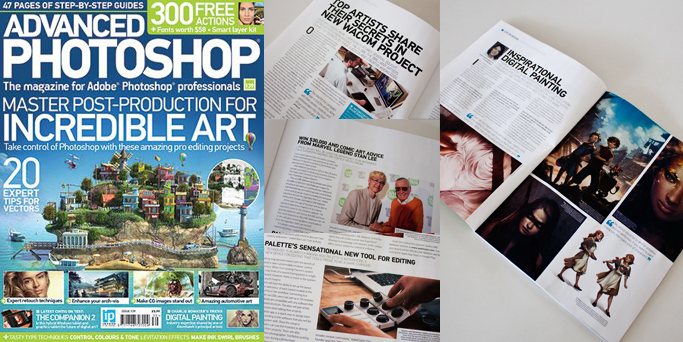 September 2015 - Issue 139
Inspirational Digital Painting
5 page in-depth interview with Charlie Bowater starting on page 10.
News Articles starting on page 8 (This is the first issue, where I also cover the news.):
Top Artists Share Their Secrets In New Wacom Project
Covers Wacom's Create More Campaign.
Win $30,000 And Comic Art Advice From Marvel Legend Stan Lee
Highlights the contest hosted by Stan Lee's POW! Entertainment and LINE WEBTOONS.
    P

alette's Sensational New Tool For Editing
Discusses the new device created by Palette, that has been designed to work in conjunction with top Adobe software.
**Note: These articles are available as PDF per request.
October 2015 - Issue 140
Feature Article:
Redefining Human Form and Na
ture
5 page in-depth interview with Emi Haze starting on page 10.
     Written, but canceled due to Apple announcement.    
**Note: This article is available as PDF per request.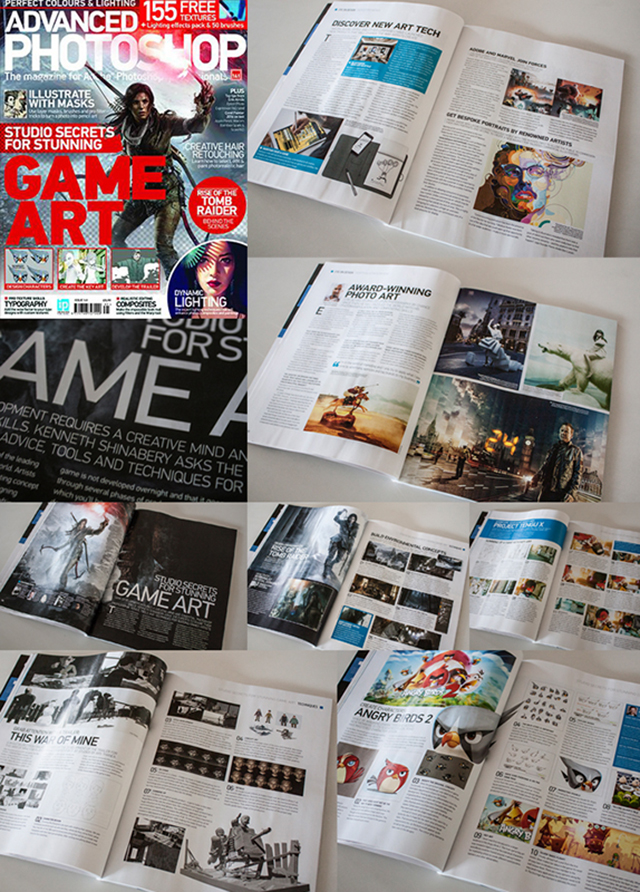 November 2015 - Issue 141
This is probably my biggest contribution to Advanced Photoshop Magazine yet.... I created 17 pages of content and was able to secure the cover for Crystal Dynamics! This is also the first time that my name was actually printed in the magazine as being a writer (something they rarely do)!
News Articles beginning on page 8:
This features APPLE, Wacom, ScanPad and Blackdove.
Adobe and Marvel Join Foces
Here readers will learn about the contest that was hosted by Marvel and Adobe through Behance.
Get Bespoke Portraits by Renowned Artists
This article features Fabulous Noble and its founder Pierre-Andre Ben Lassin.
5 page article with photographer Erik Almas beginning on page 10.
SPECIAL EDITION (beginning on page 26):
Studio Secrets For Stunning Game Art
   This was the introduction to the featurette.
   Design Environments: Rise Of The Tomb Raider 
Crystal Dynamics' Brenoch Adams shares with me how to build environmental concepts!  
   Create Characters: Angry Birds 2  
   Rovio's Toni Kysensius talks about how the new Angry Bird, Silver, was added to the flock and gives his tips for success!
Showcase Your Game In Key Art: Project Tengu X
Davide Bianca and Andrea Mancuso from share pointers on creating key art.
 Grab Attention With A Trailer: This War Of Mine
Ars Thanea Lukaz Skurczynski explains the process of creating a brilliant trailer for a game such as This War of Mine.
**Note: These articles are available as PDF per request.
PHOTOSHOP CREATIVE MAGAZINE / IMAGINE PUBLISHING
As Advanced Photoshop Magazine began going under changes I was asked to write an article for their sister magazine Photoshop Creative.  Originally this was supposed to also be a five page interview but was shortened by the new editor, due to the different constraints of the two magazine titles.

December 2015 - Photoshop Creative Magazine Issue 134
2 page interview with artist Lois van Baarle, beginning on page 104.
**Note: This article is available as PDF per request.
Copywriter Collective Articles - Online Magazine/Blog
The Copywriter Collective will be publishing a series of my previous LinkedIn articles on their online magazine/blog.  It is an honor to have been selected as a featured writer by the Copywriter Collective.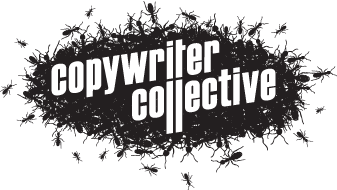 As the articles are published I will update each title as a clickable link: